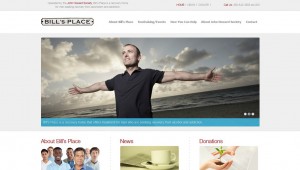 Website: Bill's Place
Bill's Place
Operated by the John Howard Society, Bill's Place is a recovery home and sober-living apartments for men seeking recovery from alcoholism and addiction.
The goal of Bill's Place is to create a safe environment for men choosing to enter into a recovery program. The 10-bed home is designed to help these men during their journey towards restoring their lives and the lives of those around them.
The Sober Living Apartments provide long term housing for those committed to their own sobriety and supporting those whose journey has just begun.
Our provided services:
Developed this website using WordPress software for CMS (Content Management System) and News / Events management.
PSD to WordPress SEO Friendly Theme.
Customize WordPress Templates.
PHP / MySQL, JavaScript, jQuery.
← Back To Our Work